Welcome !
Located north of Highmore, in central South Dakota, Daybreak Ranch™ consists of 8,000 private acres of native grassland, CRP, cropland, wetland sloughs, food plots and tree plantings. Daybreak Ranch is primarily used as a family ranching and farming operation but habitat is managed with interest in nurturing wildlife. Wildlife consists of pheasants, sharptail grouse, prairie chickens, hungarian partridge, ducks, coyotes, antelope, fox, whitetail and mule deer.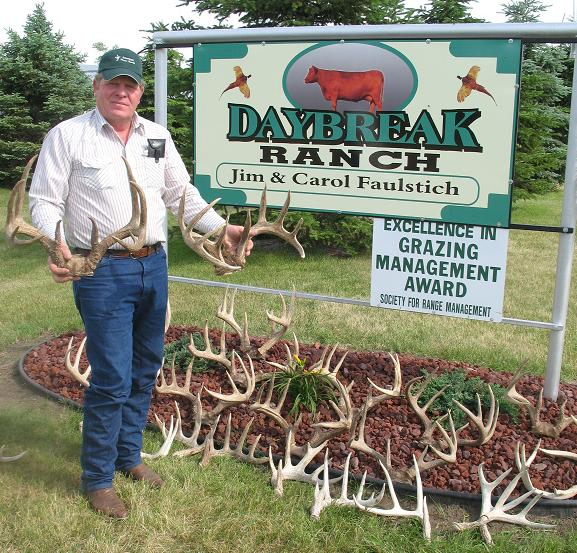 "At Daybreak Ranch, our goal and agenda has always been to share our unique hunting opportunities equaling, if not exceeding, historical South Dakota hunting reminiscent of wild pheasant hunting of the 1950's and 1960's and some of today's best whitetail deer hunting for both sportsmen and sportswomen. Everything is authentic, from the early ranch style homes provided to our guests, to the incredible large numbers of wild pheasants, sharp tail grouse, prairie chicken and trophy whitetail deer." - Jim Faulstich, Owner/Rancher/Farmer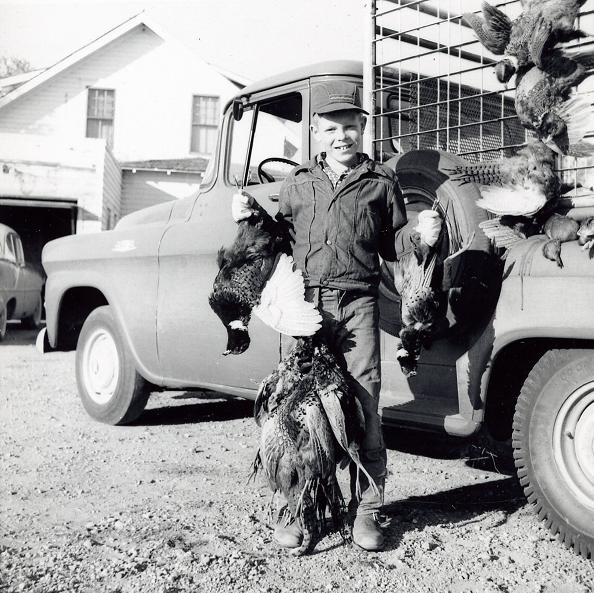 To the left, is Jim Faulstich, hunting wild pheasants at Daybreak Ranch in 1959. Jim remembers what pheasant hunting was like with his dad and will work with your hunting group to ensure your hunt is as nostalgic as possible.
Three generations of Faulstich family have produced a nurturing environment attracting an abundance of wild pheasants, whitetail deer and wildlife. Jim's unique and distinct method for maintaining wildlife habitat generates wild pheasant populations you will likely never experience anywhere else. Daybreak Ranch offers wild pheasant hunts with sharptail grouse and prairie chickens as bonus birds. There are no preserve or hatchery raised pheasants.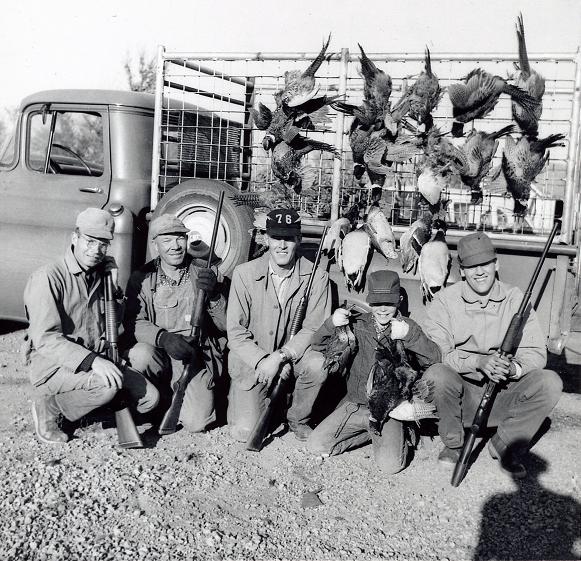 To the right, a 1959 Faulstich family pheasant hunt. Wish you could go back in time and experience the wild pheasant hunting stories your father and grandfather have shared with you and your children? You can, call Jim today!
"Upland hunting at the Faulstich farm is like hunting at a family farm decades ago. Warm hospitality, thousands of acres of grasslands properly managed for livestock grazing and bird habitat, field crops, and shelter belts provide the right recipe for a plethora of pheasants all season long. These thousands of wild birds aren't planted, just nurtured the old fashion way with proper habitat, making for a memorable hunt anytime you are there. If the desire strikes you and you have the leg and dog power left to chase them for a few sections of land, the grouse and prairie chickens are a bonus addition to any pheasant hunt. They are an addictive challenge. Numbers of 30-50 birds in each covey will get your heart pumping every time and that addiction is hard to get out of your system. The only fix for that is another trip back to the Faulstich farm. It is certainly a honor and privilege to hunt at the Faulstich farm, I only wish I lived in South Dakota to make it a daily event.
Whit O'Daniel, Carbondale, IL (618) 534-7492
Jim Faulstich was the National Cattlemen's Beef Association 2009 Environmental Stewardship Award region VII winner administered by the National Cattlemen's Foundation and National Cattlemen's Beef Association and sponsored by Dow AgroSciences and USDA Natural Resources Conservation Service. Congratulations Daybreak Ranch and the Faulstich and Roth families!