Daybreak Whitetails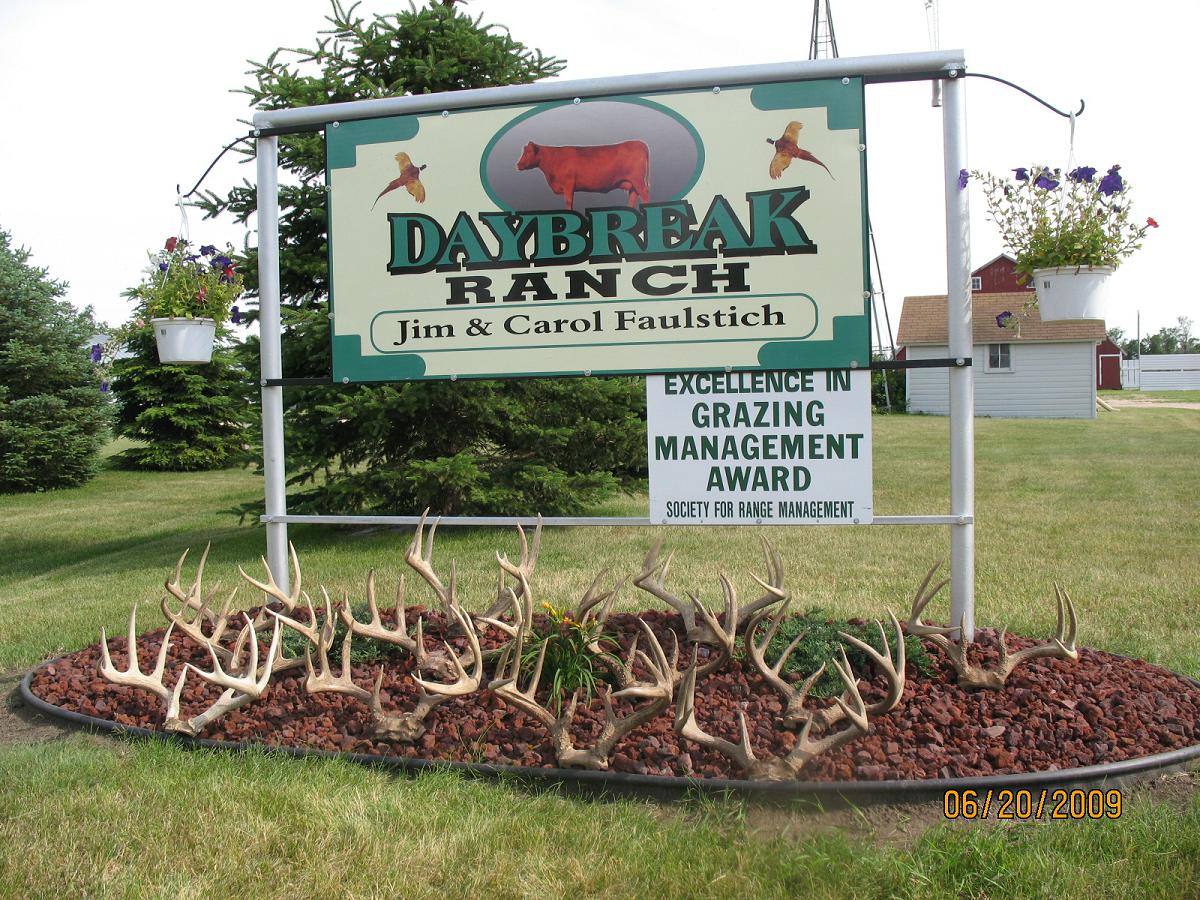 Continuing in their quest for excellence, Daybreak Ranch™ has teamed up with Gordon Sampson to offer guided archery whitetail hunts with the possibility of future gun hunts. 2,500 acres of Daybreak Ranch's 8,000 acres are devoted exclusively to whitetail deer archery hunting. All photos were taken at Daybreak Ranch, Hyde County, South Dakota.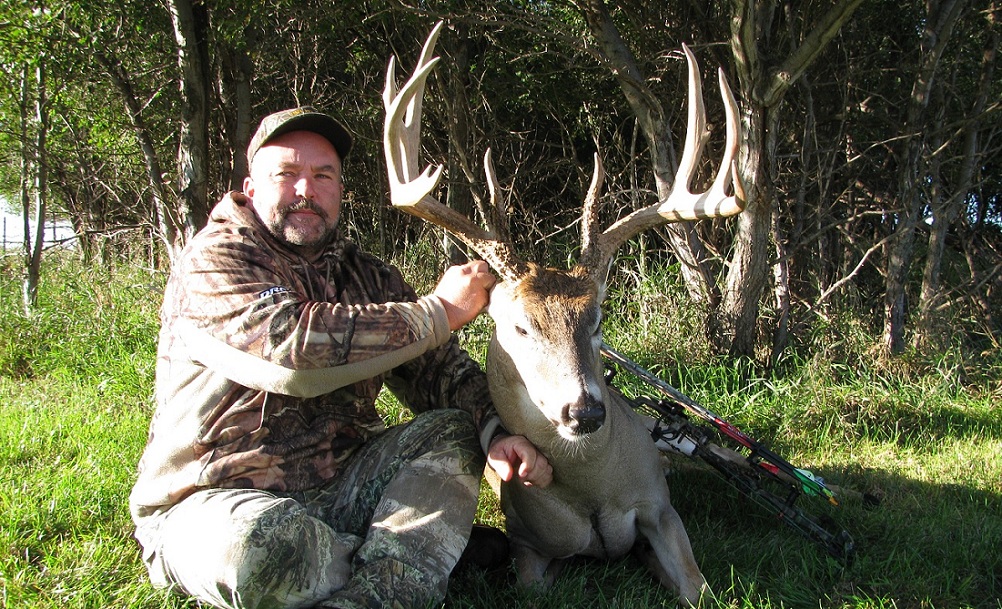 Gordon has spent the past 30 years guiding archery hunts in Montana as Mossy Horn Outfitters and this new partnership along with his return to his South Dakota roots has given him the opportunity to keep pursuing his love of whitetails.
Growing up as a South Dakota prairie boy, he started archery hunting back in the 1960's harvesting his first whitetail as an archer in 1962. Since then, Gordon has been an avid whitetail hunter and guide helping others to achieve a quality hunting experience pursuing their dreams of harvesting that big mature buck with nearly 100 Pope and Young class deer, elk and antelope as proof of his expertise and experience.
In order to have that measure of success, he has spent literally thousands of hours studying and patterning whitetails, honing his knowledge and skills to give his clients the best opportunity for success. Portable tree stands, ladder stands, tri-pod stands, elevated permanent stands and blinds, natural blinds and even pit blinds have all been used getting his clients in range of those big bucks.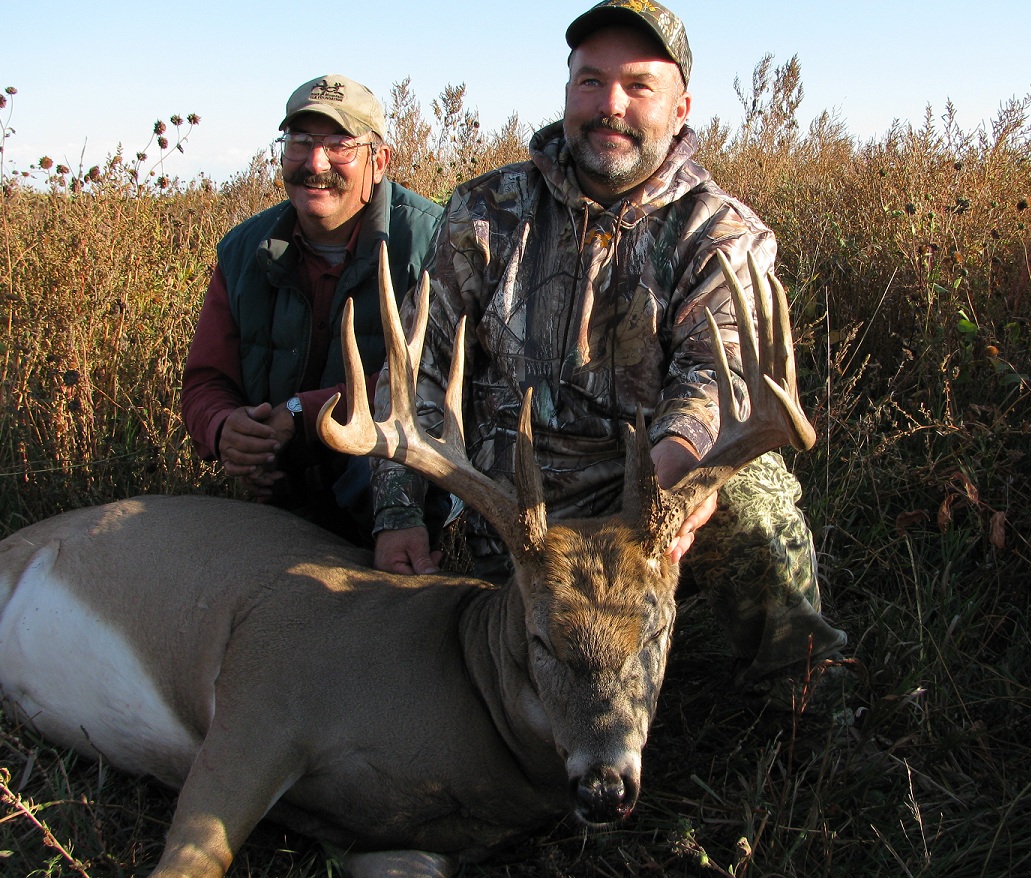 Gordon's philosophy is "If you want a big buck, you're better off hunting an area for 10 minutes that has big bucks than hunting 2 weeks in an area where there are no big bucks."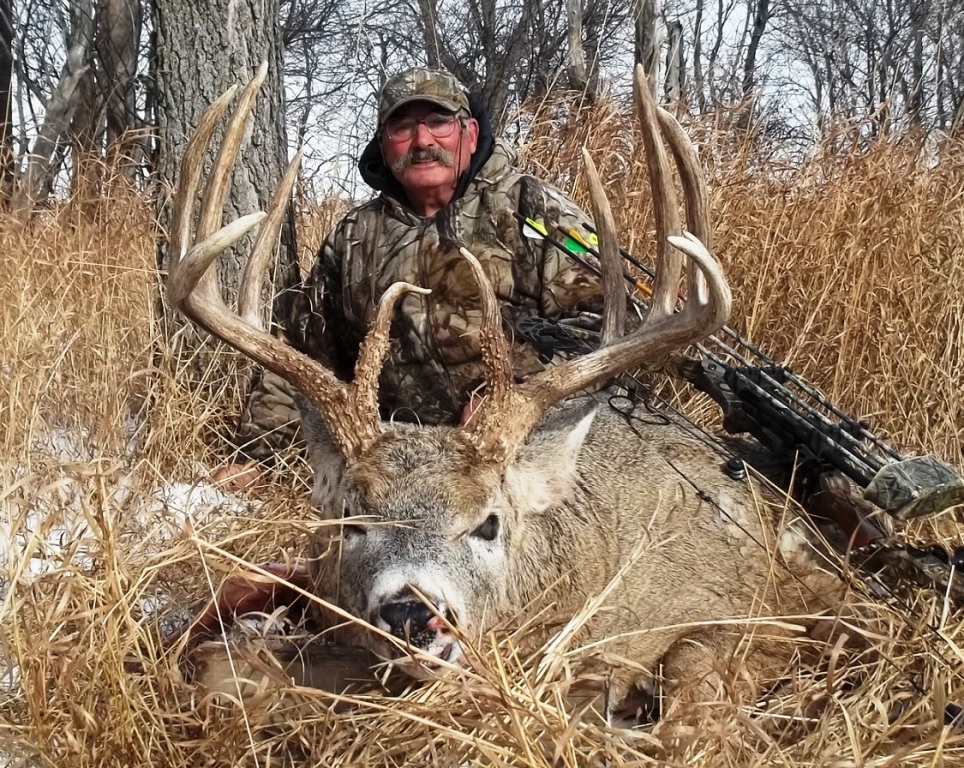 "I have hunted all over North America and had the thrill of harvesting numerous whitetails, mule deer, elk, antelope, moose, big horn and Dall sheep, mountain goats, mountain lion, caribou, black bear and grizzly bear. Most of these hunts were self guided and I feel I have paid my dues as someone who knows what it takes to be successful. Having been fortunate enough to enjoy the thrill of all those successes, I will do my best to help our clients fulfill their dreams of 'that big one.' I consider everyone who hunts with me as equal. There is no favoritism given. If there is more than 1 hunter, stands are numbered and drawn for before the hunt begins. While the hunt is in progress, I am constantly scouting for changing patterns."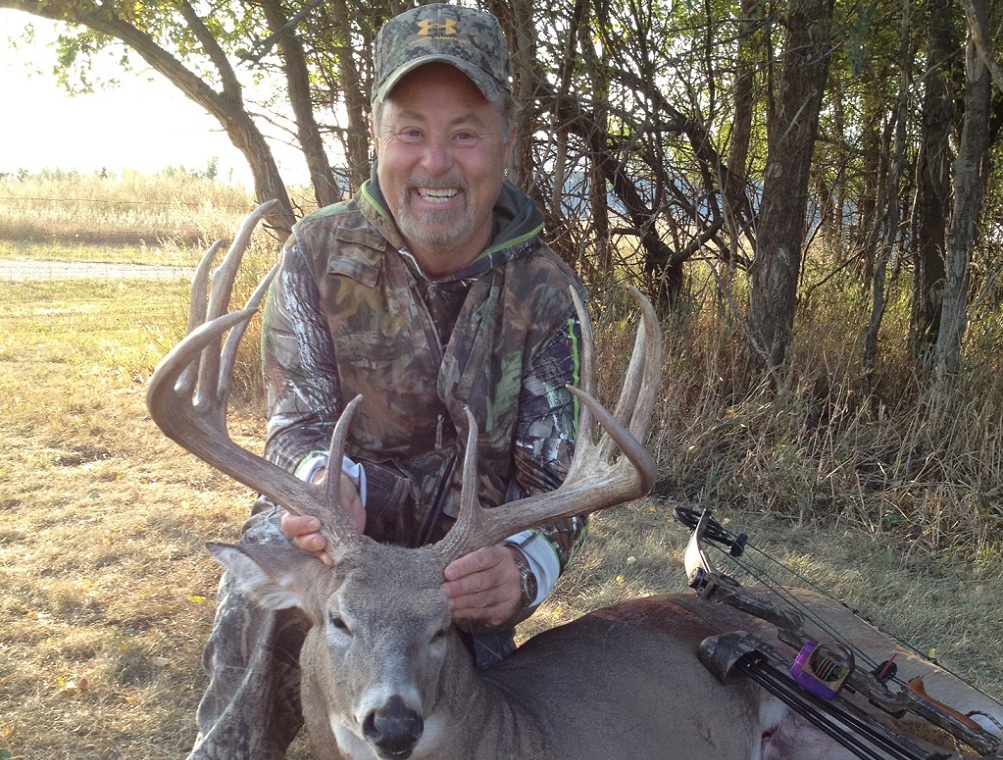 South Dakota deer hunting is rapidly rising in popularity and quality of deer due to the conservation practices and game management of farms and ranches like Daybreak Ranch. Archery licenses for deer are easily obtained by just applying. Gun permits for non-residents are harder to obtain due to a lottery system in eastern South Dakota. Non-residents can only apply for left over licenses.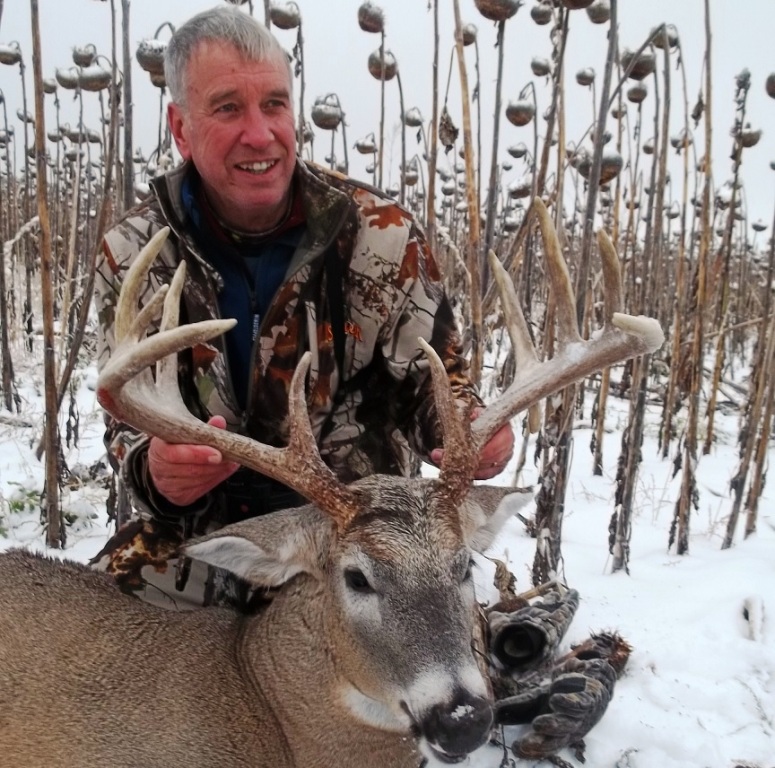 Our archery season starts the 4th Saturday of September and runs through December 31st so there's lots of time to hunt. We try to book 4 hunters for a 6 day hunt, preferably all from the same party. This helps avoid any conflicts of a personal nature. However, we will work with any individual or group as lifelong friendships can soon develop from once strangers.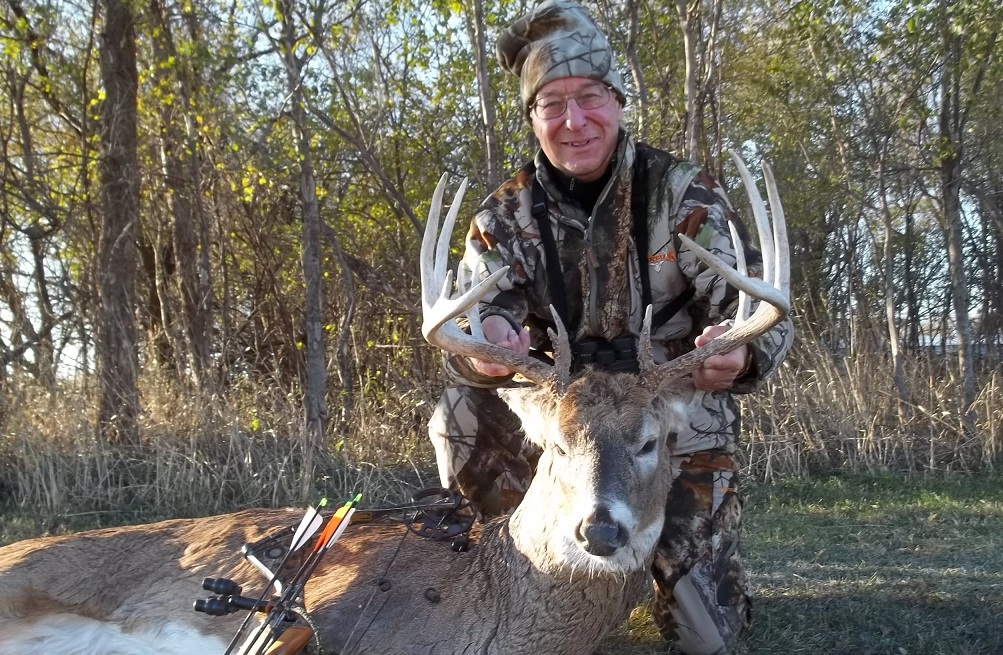 A 50% deposit is required to book and schedule your hunt with the balance due on your arrival. Two well kept, comfortable older ranch homes are provided for our clients with a bed for each person. Cooking equipment is supplied; you provide your own food or visit restaurants in Highmore. There is a washer and dryer to keep your camo fresh. We'll get you to your stand or blind and pick you up at designated times. A target range is also available for practice. If scheduling allows it is also possible to experience a combination deer and pheasant hunt or even take a day and sneak in some excellent walleye fishing on the Missouri River.

Late season can be a great time to hunt Daybreak Ranch. Numerous deer migrate into our fields and food plots for great nourishment for the upcoming winter. Some deer come miles from other farms and ranches for our ample food supply. So, if you can put up with a little colder weather, this can be a GREAT opportunity to harvest that mature buck that eluded everyone earlier in the season. Antlerless deer season is another option for those interested.
For more information or to book a hunt, give Gordon or Jim a call or email. Gordon (SampsonG@Venturecomm.net) may be reached at his home (605) 852-2444, or cell (406) 490-4690, and his mailing address is 18225 334th Avenue, Highmore, SD 57345. Jim (Faulstich@Venturecomm.net)may be reached at his home (605) 852-2622, or cell (605) 871-3606.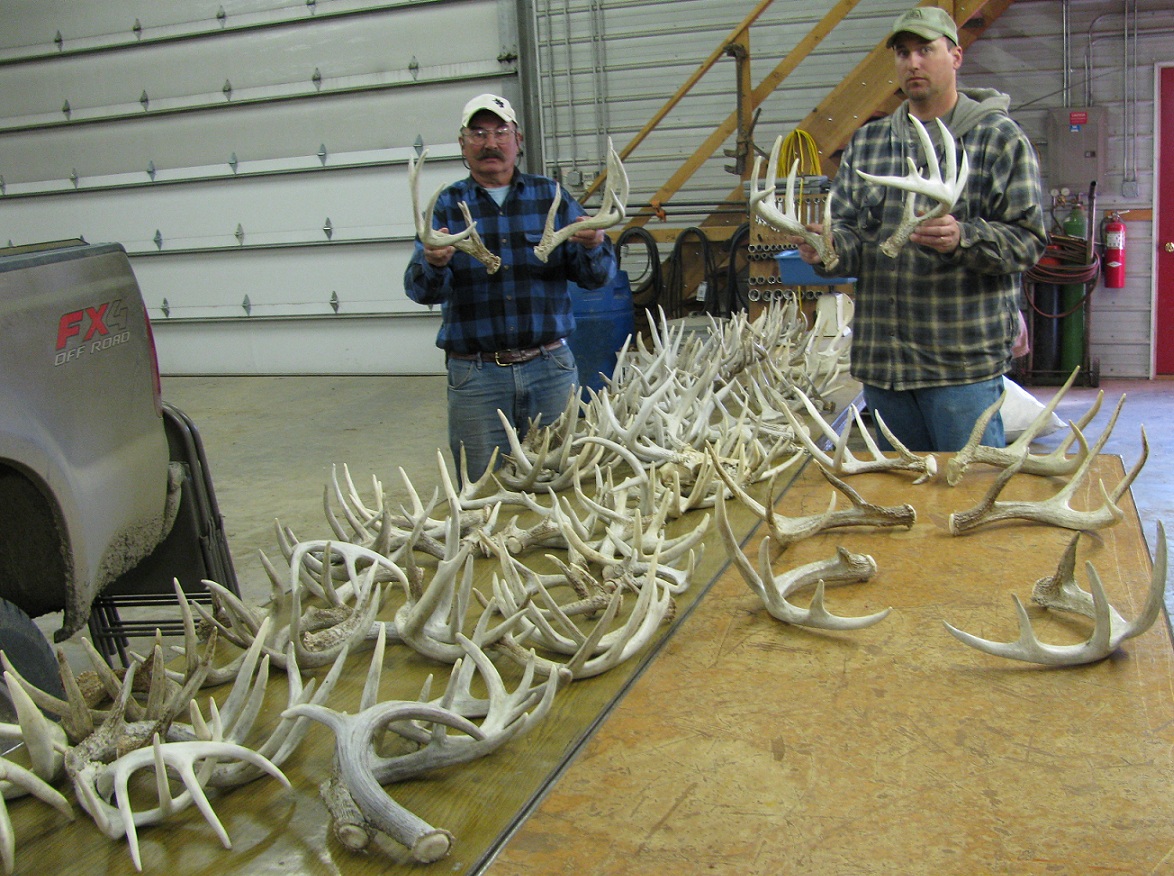 Photo to the left shows all 2009 sheds found on Daybreak Ranch. Pretty impressive.
They say death and taxes are the only things guaranteed in life. However, we guarantee you will have a quality hunt backed with 47 years guiding/outfitting experience and 35 years of the best conservation and game management practices implemented in the state of South Dakota.
Shoot straight and one more thing, "PRACTICE!"
Daybreak Ranch was recently featured on Roger Raglin Outdoors. Roger has traveled all over the world taking various record book animals including several world records, but he is known primarily for his skills in the field of whitetail deer. This goes without saying since he has been nicknamed, "America's Favorite Whitetail Deer Hunter." he has definatley earned the title. having taken whitetails in nearly 40 different U.S. states and 5 Canadian Provinces, Roger's accomplishments are simply staggering. His trophies include 174 bucks topping the 120 Boon & Crockett mark, of which 118 top the 130 B&C Mark.