Upland Bird Hunting
"Iím fortunate enough to have had the opportunity to hunt a variety of species of birds around the United States as well as in several foreign countries. With that in mind I donít hesitate to say that the hunting with Jim Faulstich on the Daybreak Ranch™ is some of the best in the world. The time and effort that Jim puts into habitat really pays offóso much so that some of the best hunts Iíve had with him were in years that hunters in other parts of the state were struggling to find birds. But the best part of hunting with the Faulstichs is that it is more like hunting with family than the corporate atmosphere you find so many places these days. If you are looking for real South Dakota pheasant hunting you wonít find any better than this."
Dawson Hobbs, Alexandria, Virginia (703) 626-7031
Pheasant hunting season in South Dakota begins on the 3rd Saturday of October and continues through the end of the year. During the 1st week of pheasant hunting season, hunting begins at 12 noon, and we are located in the central time zone. After the 1st week and for the remainder of the season, hunting begins at 10 am. These hunting times are established by the South Dakota Game, Fish & Parks Department.
Daybreak Ranch is not a pheasant hunting preserve, this is the real deal. You will shoot wild roosters as well as sharptail grouse and prairie chicken as bonus birds during the wild bird season. No released birds here!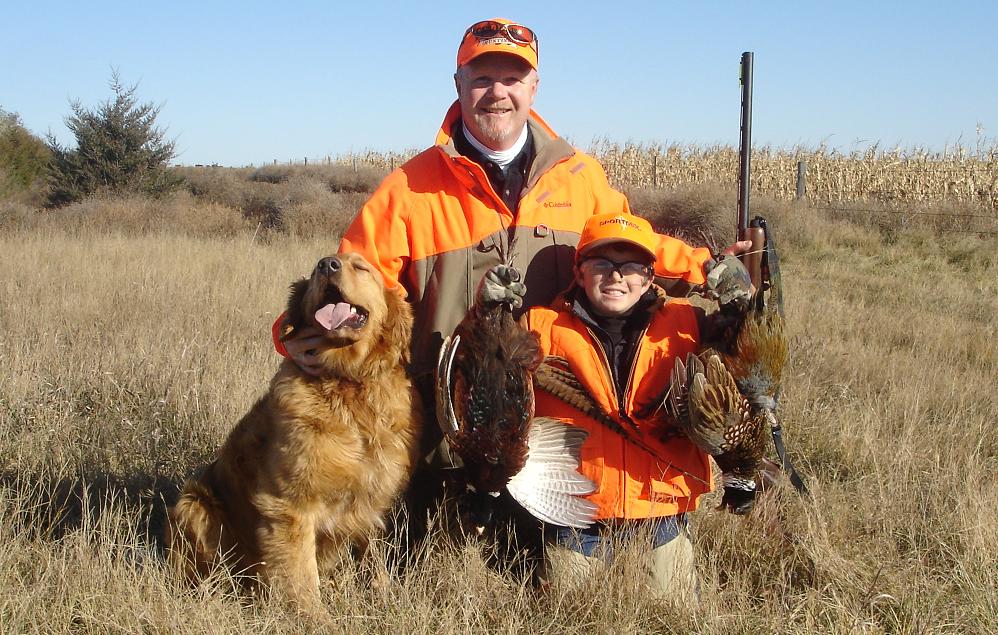 One of many attractions of pheasant hunting at Daybreak Ranch is the ability for you to build your own hunting party consisting of family, friends or hunting buddies. We do not mix groups of hunters unless requested, providing you a more enjoyable hunting experience. In fact, with 8,000 private acres available to hunt, it is unusual to see another hunter on the ranch while you are in the field hunting.
If you have experienced hunting dogs, whether they are retrievers, pointing dogs or flushing dogs, you are welcome to bring them or we have dogs available. Should you bring your own bird dogs, please disclose the dog's abilities and training. Dogs brought into South Dakota are required to have a health certificate from your local veterinarian indicating all shots are up to date and is a disease free animal. Should you have questions concerning these requirements, call the Animal Industry Board at (605) 773-3321.
"Absolutely the finest experience I have had chasing roosters! From the moment you arrive at Jim Faulstichís Ranch and hear the roosters cackling to sitting down prior to your first dayís hunt for the safety briefing and hearing the pride come through in Jimís voice with updates about the extensive habitat work done that year for wildlife you know youíve come to a special place Ė a wild place. Hunters looking for quality gunning where you control the hunt and get to truly work your own dogs- this is the place for you. Going on year 6, I can honestly say I look forward all year to hunting Jimís place, even with the 3,000 plus mile round trip drive. Jim has truly done it right with comfortable accommodations for you and your dogs, but most importantly- INCREDIBLE habitat and hunting!"
Barton C. James, Washington, D.C. bjames@ducks.org or cell: (202) 577-3990
Each group of hunters will hunt diverse habitat and locations each day. You will be guided by Jim Faulstich, Daybreak Ranch owner who grew up on the ranch and knows the best places to hunt given South Dakota's diverse weather conditions, and Jake Grages, who has hunted all of his life. Daybreak Ranch guides never carry a gun; this is your hunt!
You will need to provide your own South Dakota Small Game Hunting License. These licenses are good for 10 days, split into two 5 day periods. Dates are specified at time of purchase. Purchase online.
Blaze orange headwear and safety glasses are required. We also suggest wearing a blaze orange vest if available. Safety is a high priority at the ranch and is not taken lightly. We want to see you the next year!
You will be hunting wild birds in challenging habitat. We encourage hunters be physically prepared and ensure your bird dogs are also up to the task at hand. Wild South Dakota Pheasants can be difficult to bring down. We recommend you bring adequate ammunition for your hunt. 3 3/4 dram, 1 3/4 oz. of 4 or 5 shot, high brass shotgun shells 12 guage, or 20 guage at minimum. Complete your experience and bring your dad or granddad and have them bring their favorite over and under or side by side shotguns.
Weather in South Dakota is unpredictable and changes fast. Be prepared for warm/cold temperatures, dry/wet conditions and bring appropriate gear. The two pictures below were taken on November 10, 2007 and 2008.
Hunting the later part of pheasant season, hunters will often see greater pheasant numbers than opening weekend. As snow covers their natural habitat, pheasants will concentrate in the areas of habitat more suitable to the conditions at hand. When other hunting trips have concluded, you can still hunt Daybreak Ranch and have the experience of a lifetime while seeing hundreds of wild birds and making for a challenging and successful hunt.
We will meet together in the heated meeting area before and after all hunts. In the meeting, we'll review safety, rules, the agenda and goals for your hunt. After our hunt, you'll be able to clean your birds in the heated bird cleaning area furnished with hot and cold running water.
While transporting your birds back home, pheasants must have either the head, fully feathered wing or foot attached. When transporting another hunter's birds, you must obtain a free transportation permit from a SD Conservation Officer. This should be completed several days in advance of your departure from Daybreak Ranch.
Because of Daybreak Ranch's high percentage of returning hunters, it is well advised to book your hunt early and hold the date with a 50% deposit. Daybreak Ranch charges 6% South Dakota Sales Tax.
A special thanks to Mr. Nick Lowrey for the great photos. Mr. Lowrey is the editor of South Dakota Outdoors, a magazine published by the Capital Journal newspaper in Pierre, SD. He can be contacted at nick.lowrey@capjournal.com.